If you are using the mount and telescope to do visual observations you can do that with the SynScan hand control unit on the mount. But, if you are going to do astro photography you will need a computer to control everything. Apart from controlling the mount you also need to control your imaging camera, your guide camera and auto guiding software of choice. There are also other software that you might want to use.
If you are just going to use the computer to control your equipment you won't need to worry too much about the hardware requirements. If you are going to do image processing on the same computer you might want to consider a fast processor, enough internal memory and a large enough hard drive. If you are going to move around a lot you might want to consider a laptop with as low weight as possible.
I looked at the used laptop market and found the HP EliteBook 820 G4. It's a small laptop with it's 12.5 inch screen but still is equipped with a Core i5, 8GB of RAM and 120GB SSD. It's also equipped with USB-C, a DisplayPort (HDMI) and also an illuminated keyboard that is nice when it's dark outside.
Make sure to do a clean installation of Windows on the machine and don't forget the latest updates and security updates. Remove any applications that the vendor might have included that you don't need.
The PC is connected to your mount through an USB cable or perhaps a serial cable with an USB adapter (if you have an older mount). If you have other equipment, like the imaging camera and guide camera you normally connect them using USB as well. That means that you probably will need to use a USB hub and the best way is to place the USB hub close to the mount and run one USB cable to your PC.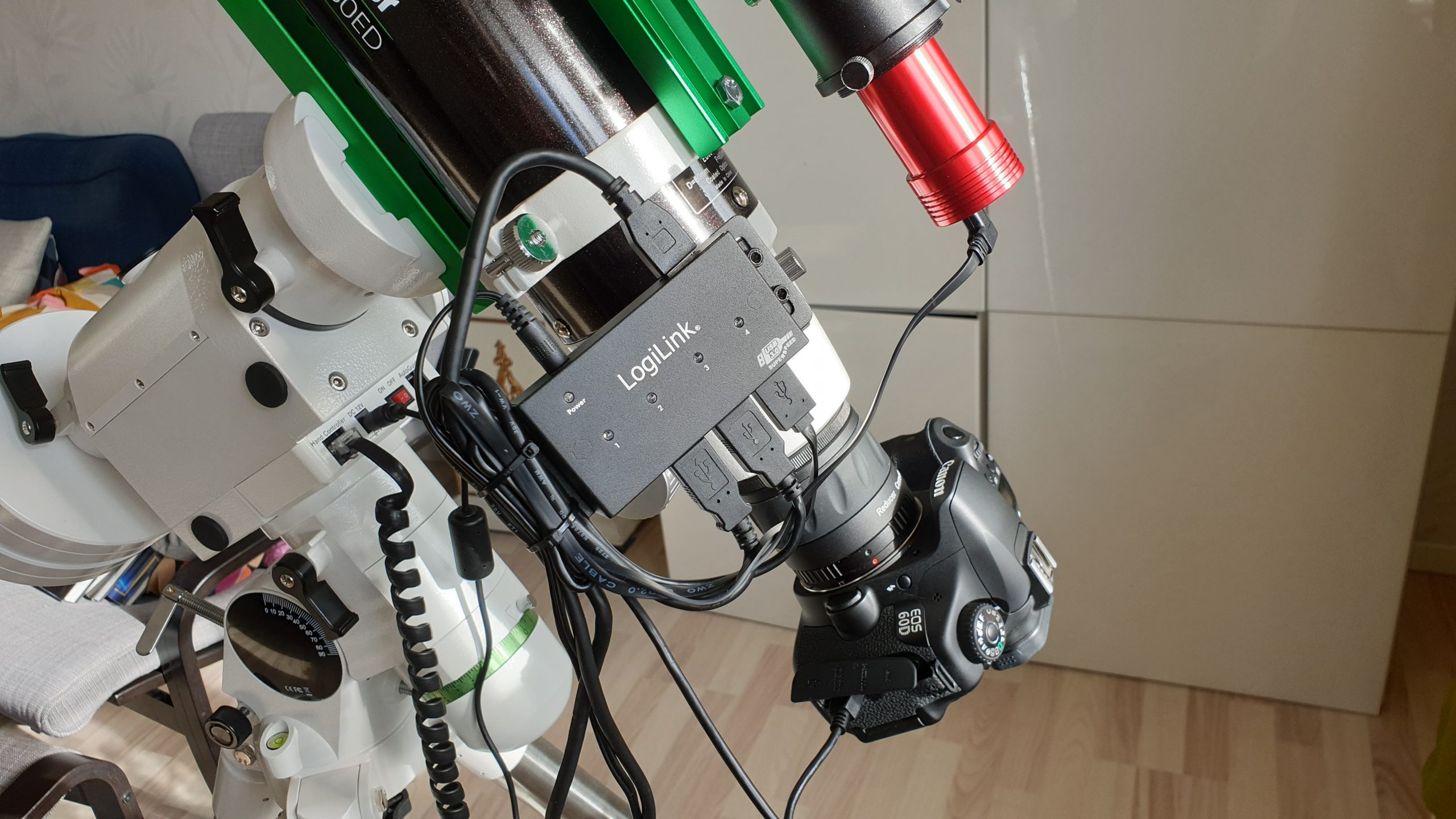 To get started I got a small USB hub and mounted that on the optical assembly. I also got a 15 meter long active USB 3.0 cable to be able to sit inside in the warm house and control everything. In the future I might just leave the small laptop outside and remote control that computer from another computer inside. In that case I don't need a long USB cable.
Stay tuned for a post about which drivers you need to install.
Clear skies!